Double Dungeon Madness!
Multiple baddies felt the wrath of the Steadfast tonight as we rampaged through both Ulduar and Vault of Archavon. In Ulduar, Razorscale (or Veranus, for those who did the Hodir quest chain), fell to AotS after only one wipe thanks to the efforts of tanks Nomadic and Mentat; healers Ruiea, Bubbletroubl and Cryingfish; and DPS Viggtarsky, Pcklshelper, Barancus, Virulenta, and Gielnor.
Click here for a hi-resolution view.
Nomadic is a little camera shy :).
After the XT-002 Deconstuctor proved to be a little too much, we decided to return to VoA and, after several painfully close attempts and one very uncooperative Minion, we were able to vanquish the giant Emalon! Thanks goes to everyone mentioned above, minus ross (she was tired) and plus healer Chubbyhealz (who somehow managed to sneak out of both of my shots. You're there in spirit, Chubby!)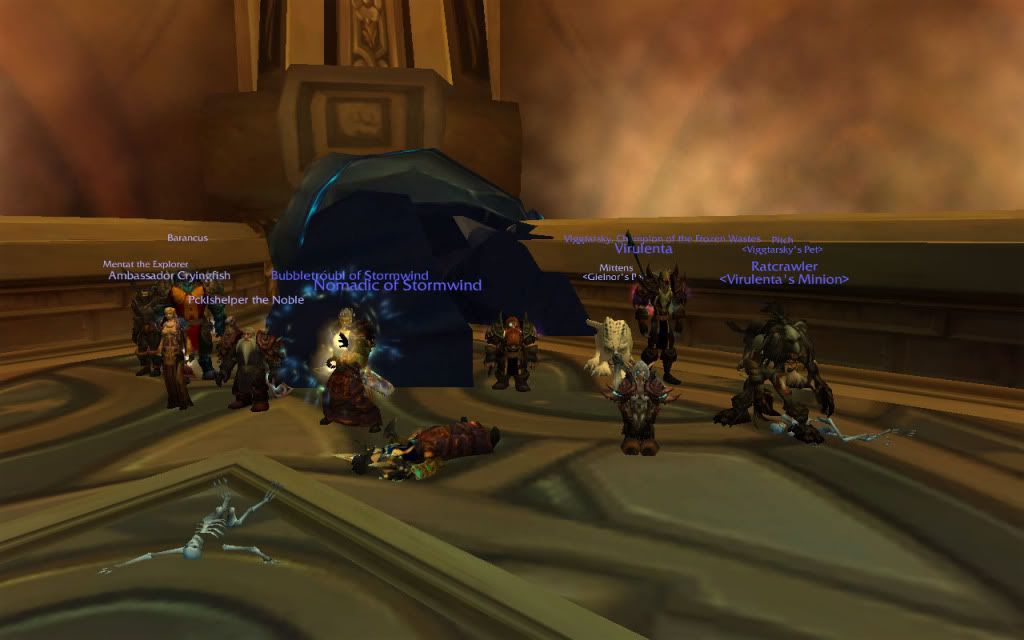 Once again, Nomadic displays his inability to stand in the beam of a camera flash.
Remember, Mentat is still our Field Captain, so if there is any specific dungeon/ raid you would like to run during the week, ask him and he will try to slot it in.
That's all for this week. If you would like a personal achievement, guild activity, or other guild or member-related story featured, message me in-game or e-mail me at megamannt451@aol.com
Enjoy those tasty, tasty epics!
Gielnor